السلام عليكم
بسم الله الحمن الحيم
Yes..... Jalan-jalan cari makan kembali lagi bersama Beauty & My Wak Piji... Macam biasa lah kalau bab makan-makan ni yang paling rajin survey dan cari tempat makan adalah Wak Piji... Beauty pulak tukang follow je... Heheheheh...
So our current obsessed food & place to eat right now is Warung Sate Barokah Ibu Nur... Beauty rasa tempat ni ramai orang dah tau tapi sebab beauty baru tau nak jugak tulis sini... Mana tau kengkawan beauty nak pi kan... Hehehehhee.... Masa first time Wak bawak beauty datang situ beauty dah pelik-pelik why jalan horror sangat ni... Why jalan pelik-pelik je... Ye lah kan biasa kalau datang Uptown Damansara tu memang havoc je kiri kanan jalan penuh kereta sekali ni dah masuk perumahan kena pulak lalu jalan gelap... Huuuuuuu 👀 👀
And yes! Sate kambing dia memang berjaya menambat hati beauty yang cerewet sikit bab rasa makanan ni. 👯 Cuma nasi ayam penyet dia je tak boleh menandingi lagi ayam penyet kat Kg. Melayu Subang tu. Haaaaa yang tu nanti beauty buat entry lagi satu...
Actually sate yang dijual di warung Bu Nur ni, dia bukan macam sate Malaysia cicah kuah kacang & sambal tu... Dia sate Indonesia (madura) yang dimakan dengan kuah khas (macam kicap tapi bukan kicap) dan diletak sambal & ada bawang goreng which is beauty tak berapa suka sebab macam kacau rasa kesedapan kambing tu... Tapi untuk orang lain yang datang sana siap menjilat sudu kuah tu... Maknanya sedap gak la kan.... Heheheheh.... So setiap kali makan sate tu beauty akan order asing dari Wak punya... Wak punya sate berkuah, beauty punya just sate sahaja.... Ya ampun! 10 cucuk sorang pun rasa tak cukup guys! Hahahahahaa! Mana taknya sate tu sangat lembut, juicy, cukup rasa perapan dia.... Dan paling best besar-besar pastu murahhhhh! Teringat sate klhatak kat Jogja okeh! Oh men! Time menaip ni pun terbayang-bayang padehal malam tadi baru layan.... Kah kah kah.... 😁😁😁
Kat warung ni jugak ada jual Bakso... Semalam 1st time rasa kuah bakso dia... Pun boleh tahan sedap... So lepas ni order nasi kosong, sate kambing & sup bakso.... Wiwiwiwiwi.... Sesiapa yang tak makan kambing tu jangan risau kat situ ada jugak sate daging & ayam.... Beauty kalau makan sate Malaysia memang cari ayam je... Lain tak makan... Tetiba terbayang sate Willy hihihihi 😅😅😅
So guys! Kepada sesiapa yang nak pi warung Bu Nur ni boleh terus WAZE je mesti keluar dalam waze.... Pastu kalau sampai sana jangan lupa share pendapat korang kat sini tau... Dah lama ruang komen beauty empty.... Hik hik hik....
Warung Sate Barokah Ibu Nur
Kampung Sungai Kayu Ara,
47400 Petaling Jaya, Selangor, Malaysia
Oke tu je tuk kali ni... Next time entry nasi ayam penyet pulak.... tata 💗💗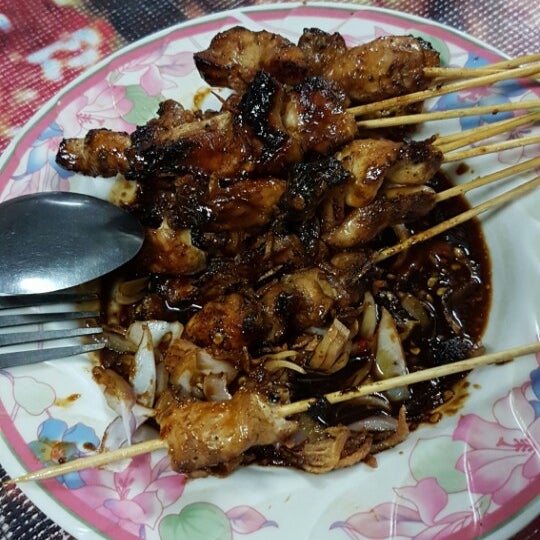 Image from Google... (maklumlah datang tak ingat amik gambar dah terus makan je. hahahah)