Assalam hye u ols... Sowi la kemalasan melanda diri 2 3 hari nih nak hapdet blog... Huhuhuuu... So beauty akan hapdet step by step start from last saturday oke...=) Seperti sedia maklum entry lepas beauty de bagi tau nak hapdet bebuka best kan?? Owh ini lah dia bebuka ngan kengkawan skuter... Besttt sangat makan sampai lebam... Meratah segala lauk sampai dah tak bole nak isi dalam perut dan mulut... Huahahahaa ;-p
Last saturday Ghetto Scoot Clan buat majlis berbuka puasa kat Qthai Steamboat Ampang.... Sonok sebab every year memang acara ni ditunggu.. Memasing comel-comel & ensem-ensem pakai baju kurung & baju melayu...;-) Steamboat kat situ murah je... Next time we ols nak pi lagi mamam yang sekali ngan bbq pulak... =) Beauty ngan hubby cam biasa opkos la naik vroom vroom kan... Tak de maknanya nak meredah jem naik kete... Naik moto pun terpaksa menyelit berhati-hati sebab banyak sangat kete on dat day... huiii!!!! Yang lain pun nek moto... 2 3 org je yang nek kete.... Jom layan pict eh... Duk bebel sangat kang pening lak u ols... ihik ihik ihik ;-)
Kami buka kat sini... Will go there again ;-)
Dia punya bahan banyak gile termasuk yang bbq..
Baca doa berbuka & doa makan =)
Amboi cik wanie bukak mulutttt ;-p
Yang ni cover macho & cun ;-p
Tiram bb mucuk punya... Udang ketam saya punya... Huahahaa.. Tapi ujung-ujung dia bedal ;-p
Nih lagi sorang si ira... Geget muncung kang!! ;-p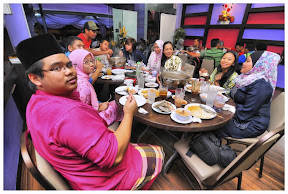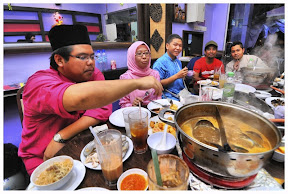 wink wink ;-)
The pink couples
Pening layan diorang begusti ;-p
The pakwe makwe... Ekekekeee ;-p
Comel tak kami?? Huahahaaa ;-p
Group photo time!!! Sian bb mucuk tak boleh nak masuk dalam ni sebab jadik photog...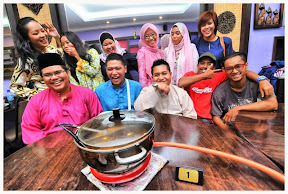 Amboi-amboi kalah kami somi isteri ;-p
Oke time kami lak ;-p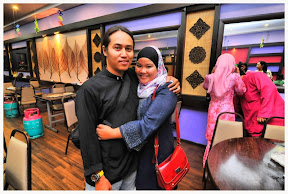 Nih feveret pict yang da jadi profile pict... hihihii ;-p
The gurlsssss... love u ols sayam ;-)
Overall sangat best... Event 11 ketul je yang dapat join... After berbuka kami ramai-ramai serang jalan TAR... ya ampun ramai gile orang jalan selangkah 5 min berenti... Huhuhuhuuu... Pastu kami serang uptown danau kota pulak pun sama cam tu.... Last check point bersahur di Char Kueh Teow Titiwangsa... Nyum nyum.... Balik tu beauty ilang mood sikit sebab tangan beauty sakit tak tau nape... hadoi spoil kan nasib da nak balik... Atas moto bb mucuk sempat tolong picit-picitkan tangan beauty.... Dan malam tu kami tido umah MIL beauty sebab dah flat gilak!!! =)
Itu lah kejadian berbuka dengan kengkawan... InsyaAllah umur panjang jumpa lagi di ramadhan akan datang... ;-) So next entry nanti tunggu rajin ye ye ye..;-p Daaaaaaaaaaaaa!!!! ;-)